2021 Lijia Exhibition
Theme: "Hui"-Wisdom gathers technology, innovates and researches
Seize new opportunities and release new momentum
The prestigious "Lijia International Intelligent Equipment Exhibition" in the central and western regions has been successfully held for 21 sessions. In the course of 21 years, the exhibition has been supported and affirmed by many equipment manufacturing brand companies at home and abroad, and has also been actively participated by a large number of user companies, which has established the exhibition's influence in the manufacturing industry in the central and western regions and has become an important window for customers to understand the western market. , To build a trade communication platform for upstream and downstream enterprises.
As a national strategy, the construction of a dual-city economic circle in the Chengdu-Chongqing region will help form an important growth pole for high-quality development in the west and create an inland open highland. The Chengdu-Chongqing region accounts for 33.25% of the total economy in the western region. It is another large regional economy in China after the Yangtze River Delta, the Guangdong-Hong Kong-Macao Greater Bay Area and the Beijing-Tianjin-Hebei region. As the Chengdu-Chongqing region strengthens the construction of a modern industrial system, the construction of a "dual-core drive" high-quality development circle is starting, and the western manufacturing industry is ushering in a new opportunity. Digital new infrastructure, smart factory construction, etc. are taking advantage of the trend to promote the transformation and upgrading of manufacturing enterprises, release new momentum for the manufacturing industry, and usher in new opportunities in the huge market.
About this exhibition
The 22nd Lijia International Intelligent Equipment Exhibition in 2021 will be held at Chongqing International Expo Center on May 27-30, 2021. The theme of this exhibition covers the industrial chain of intelligent manufacturing and factory production, comprehensively displaying new products, new technologies and new processes in the field of equipment manufacturing, and promoting the development of manufacturing.
Exhibited Products
This year's exhibition "Hui" gathers talents and innovates excellent skills. Through equipment procurement, product on-site demonstrations, technical exchanges, economic and trade cooperation and other forms, the exhibition will be built into a "Hui" (intelligence gathering technology, innovation and research). The theme is an application and communication platform for all-round technical exchanges, information communication, product display, and business services driven by the "three news" (new technology, new equipment, and new technology).
HA-330NC High Speed Cutting Saw
WLS75CNC Intelligent Cutting Circular Saw
FULL AUTO CIRCULAR SAWING MACHINE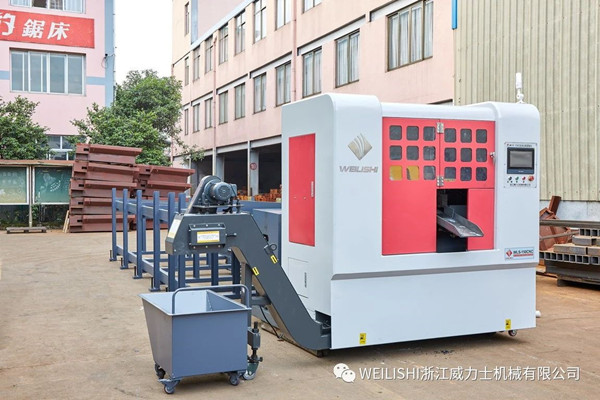 Bimetal band saw blade
BIMETAL BAND SAW BLADE
Booth information
Exhibition name: 2020 22nd Lijia International Intelligent Equipment Exhibition
Exhibition address: Chongqing International Expo Center (Yuelai Convention and Exhibition City, Liangjiang New District)
Booth: No. 6423, Hall S6
Time: May 27-30, 2021